01-10-2017 14:05
The Rotary Club of Guernsey appeared in March 2012 edition of The Rotarian as the End Polio Now Guernsey Shop donates $15,700 profits to the Rotary End Polio Now campaign.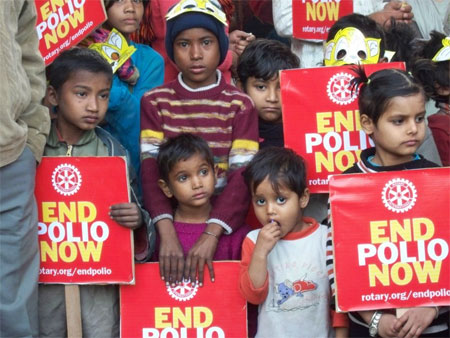 ---
01-10-2017 14:05
For more than 25 years, Rotary has led the private sector in the global effort to rid the world of this crippling disease. Today, PolioPlus and its role in the initiative is recognized worldwide as a model of public-private cooperation in pursuit of a humanitarian goal.
---
01-10-2017 14:05
The Global Polio Eradication Initiative is a public-private partnership led by national governments and spearheaded by the World Health Organization (WHO), Rotary International, the US Centers for Disease Control and Prevention (CDC), the United Nations Children's Fund (UNICEF) and in more recent years joined by The Bill and Melinda Gates Foundation. Its goal is to eradicate polio worldwide.
01-10-2017 14:05
See what the Global Poverty Project have to say about the End of Polio by following this link:
---
01-10-2017 14:05
It is about a presentation by Bill Gates of the Bill and Melinda Gates Foundation when he was addressing 20,000 Rotarians at the Worldwide Rotary convention in New Orleans in May 2011
---